New Riff Single Barrel Selection with Ken Anderson
July 6 @ 10:30 am

-

5:00 pm
  New Riff Single Barrel Selection with Ken Anderson, legendary former Bengals QB #14
You will be one of just 7 guests to join Kenny for this once in a lifetime experience!
Your day begins at New Riff Distilling in Newport, KY to board a shuttle with legendary Bengals Quarterback #14, Ken Anderson to be transported to Bellevue bistro in historic downtown Bellevue for brunch.
After brunch, you visit New Riff's West Campus for group and individual photos with Kenny taken by a professional photographer.
New Riff Single Barrel Ambassador, Creola Dickerson, will lead you on a thorough and exciting experience starting with a tour of our warehouses, Bottling Hall, and entire warehouse campus. Hand-selected single barrels await your consideration.
You'll read the descriptions of what our sensory panel has identified as the singular characteristics of each barrel available for your selection. As a group, you'll select your top five barrels, grab a "thief" (traditional device used to "steal" a sample from the barrel) and take your samples to the tasting room for further evaluation.
In the beautiful, historic tasting room dating back to 1903, Bourbon tasting techniques will be discussed before conducting your own sensory evaluation of your chosen barrels.
Once the group selection of the single barrel is made, you will then be transported to New Riff Distilling to sample craft cocktails at The Aquifer Bar with owners Katie and Steve.
Next up is a New Riff Distillery Bonded Tour with Grover that covers all aspects of the distilling process from grain to barrel. You'll explore fermentation, distillation, bottling and barreling. After each tour, there is complimentary tasting of a variety of spirits.
Hear behind the scenes stories of Bengal Legend Ken Anderson's life in the NFL. This up close and personal experience is available to only 7 individuals. Don't miss this once-in-a- lifetime all-day adventure for the Bourbon and Bengal's lover!
Proceeds benefit the Ken Anderson Alliance, a non-profit dedicated to creating LIVE, WORK, ENGAGE opportunities for adults with disabilities.
Included with your Ken Anderson Alliance Single Barrel Experience
• One (1) New Riff Mini Glencairn
• One (1) Ken Anderson Autographed New Riff Tasting Notebook
• One (1) Ken Anderson Autographed Barrel Bung
• One (1) 100ml Bottle of the Bourbon from the Barrel you have Selected as a Group
• One (1) Ken Anderson autographed New Riff Barrel Head with Barrel Information
• Three (3) Ken Anderson Autographed New Riff Single Barrel Bourbon Bottles from the Barrel selected by the Group
• One (1) Ticket for the Ken Anderson Alliance event at Bishop's Quarter in Loveland, OH on September 8 where you will receive a KAA Gift Bag containing a 4th bottle and so much more!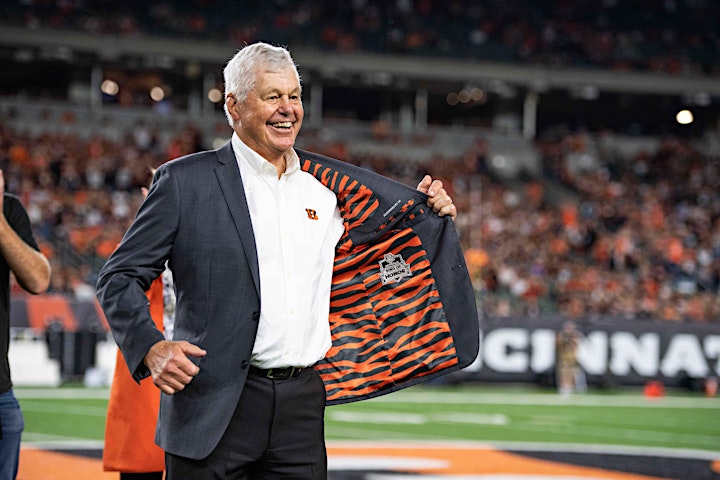 Related Events